Gottfried Wilhelm Schilling wrote an influential treatise on leprosy in 18th-century Dutch controlled colonial Suriname.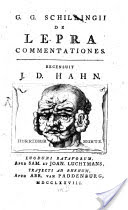 In my book on Leprosy and Colonialism I have written more in detail about this adventurer/surgeon/physician, who became a slave doctor in the colony and framed a racialized  and sexualized pathology of leprosy. Schilling's treatise is an example of how the fears of the white colonizers for the black slaves permeated medical colonial thought and policies, leading to compulsory segregation of leprosy sufferers.
There was some confusion of Schilling with another person of the same name, living in Suriname at the same time. Thanks to the work of American historian Nathalie Zemon Davis and of Philip Dikland of the Suriname Heritage Guide database we now know that there were two Schillings and that the slave doctor was born in Germany (Brandenburg), becoming one of the many German employees of the Dutch trading companies and colonial regimes. Nathalie Davis will shortly publish more on the subject.